Exhibition "Inclusions"
GeoRessources Laboratory (Nancy, France) provides an exhibition on ECROFI2019 made from the fluid inclusions photographies "INCLUSIONS". We owe thank to Jacques Pironon for the opportunity!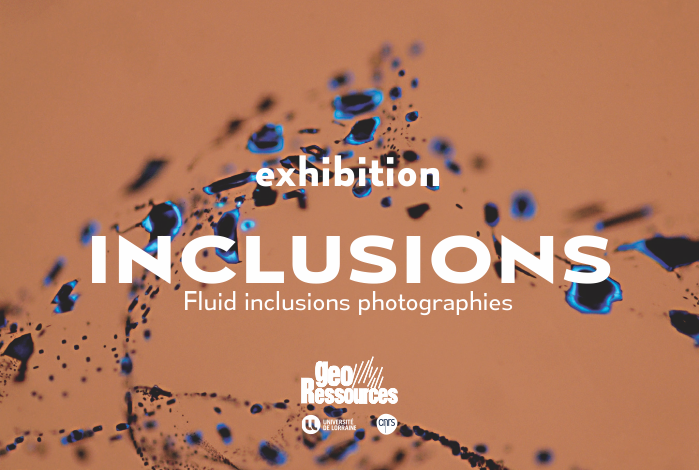 Fluid inclusions are micro-cavities inside mineral with liquid, solid or gas.
They can help geologists to reconstruct the distant past over timescales from thousands to billions of years.
GeoRessources laboratory proposes an exhibition collecting the most beautiful fluid inclusions' photographies created by researchers from all around the world.
30 photographies presenting a scientific interest but first esthetical, with informations to explain what is a fluid inclusion, why studying them, who are the pionners in research and how we can find them every day.
To understand and visualize, a sculpture of a garnet enlarged in 67 times has been realized.
This exhibition is created for a large public. Every photography looks like a dream landscape or abstract painting showing beautiful laws of nature.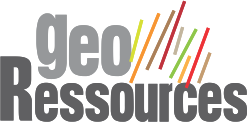 Exhibition
« INCLUSIONS »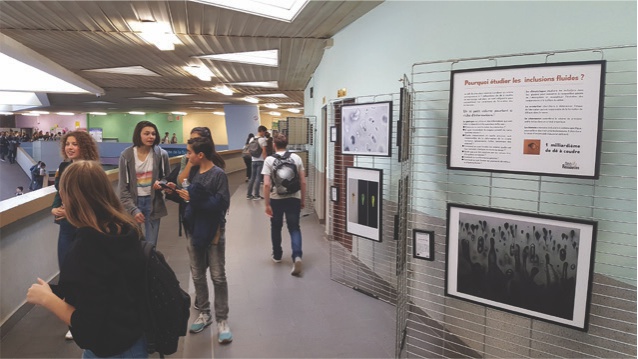 Technical specifications
30 photographies – size : 50 cm x 70 cm – wooden black frame
30 keys – size : 15 cm x 10 cm – wooden black frame
6 boards with informations about fluid inclusions – size : 50 cm x 70 cm – wooden black frame all of them are equipped with ties.
One sculpture – size about 1m3 – weight : about 13 kg – 2 little spots
The course is free, without order. The number of photographies can be limited to your area of exhibition. The sculpture could be in option.
Insurance
Photographies : 1 800 €
Sculpture : 2 300 €
Contact